Wood Burning Stoves Wakefield
Are you searching for wood burning stoves in Wakefield? Then look no further!
Leeds Stove Centre pride themselves on supplying a large range of wood burning stoves to the Wakefield area. We have one of the largest stock of wood burning stoves in Wakefield, with choices of traditional and modern styled stoves. Our modern styled stoves look great in any home, offering not only a beautiful focal point but also a fantastic heat source. Using a wood burning stove is extremely eco-friendly as less carbon dioxide is released than if a tree was left to rot in the forest. We also have a large choice of traditional stoves to choose from which are perfect for cottages, farm houses and older styled properties.
Located in Leeds near Wakefield, we have built a showroom just for the purpose of displaying our wood burning stoves. At our showroom you can get a real feel of how our stoves will look and feel in your home. Our highly trained team will be on standby to answer any queries that you may have about your new wood burning stove for your Wakefield home.
View All Our Wood Burning Stoves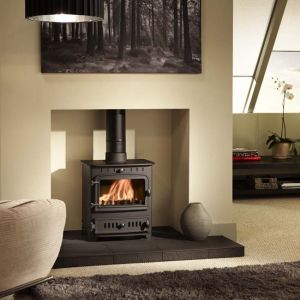 To ensure that we only supply you with the highest quality stoves possible, Leeds Stove Centre carefully selects the very best stove manufacturers ensuring that they meet our high standards. We stock our wood burning stoves from some of the most well know manufacturers such as Yeoman, Burley, Stovax, Gazco and more! Providing such a wide choice of brands allows us to offer a huge choice of different designs, accessories and a range of colours on select stoves - meaning your completely spoilt for choice at The Leeds Stove Centre.
If you required your new wood burning stove to be installed in your Wakefield home then please don't hesitate to contact us. We offer a professional installation services and can not only install your stove, but our highly trained installers can also install carry out chimney tests and install flue systems.
If you would like to arrange an installation survey for your wood burning stove please do not hesitate to contact us on 0113 255 5622.
We try to offer the very best prices that we can for wood burning stoves in the UK. Therefore is you find another genuine stove company quoting you cheaper for the same stove in the UK we will aim to beat or match their price.
View All Our Wood Burning Stoves