Stove Installation Leeds
Searching for Stove Installation Leeds? Then look no further!
Leeds Stove Centre are pleased to offer professional stove installations in Leeds even if you don't purchase the stove from us, we have a team of highly trained stove installers who can fit your new stove into your Leeds home. Our installation team are all fully trained and HETAS and Gas Safe qualified with the relevant governing & inspection body. Our team can install electric, gas, wood burning and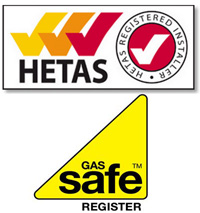 multi fuel stoves, in addition, we are also able to install surrounds and mantels.
We are happy to come to your Leeds home and carry out a free stove installation survey.
In addition to the installation stoves in Leeds, we are also able to fit flue systems where necessary, this enables homes which do not feature a chimney to still have the benefits of a stove. If you are unsure that your chimney is suitable to house a stove, we can carry out tests to ensure that they are fit for purpose. Our flue fitting service extends to installing chimney liners, these liners help protect older chimneys from smoke and heat damage. On older chimneys the masonry can corrode from the soot which is produced from stoves, therefore a chimney liner is a must. We are able to measure and fit the correct sized liner, to ensure that excessive soot build up from wood burning stoves does not occur.
Please do not hesitate to contact us if you would like further information about our Stove Installation Leeds service. We pride ourselves on our craftsmanship and can guarantee that your stove will look beautiful in your Leeds home!
Areas which we cover for our stove installations this includes Leeds, York, Sheffield, Stockport, Hull and Liverpool.