The Contemporary Westfire Uniq 23 SE Woodburning Stove
The Westfire Uniq 23 SE stoves are minimalist wood burning stoves, presenting a nearly square face to the room. Much of the front of the Westfire 23 stove is given over to the large window, and, with such a pleasant simple design, you are not distracted from the flame patterns. (Click on images to enlarge)
As with other Westfire stoves, the Westfire 23 stove is an efficient woodburning stove with airwash system to keep the window clear.
There is an optional pedestal stand – the wood stove pictured in the main image is the Westfire Uniq 23 stove with 100mm legs.
The Westfire Uniq 23 SE Wood Burning Stove is compact in size and has a moderate 6.0kW output, making it ideal for medium rooms.
The Uniq 23 SE woodburner has both modern looks and a modern efficient combustion chamber meaning wood will burn very cleanly, hence its approval by DEFRA for use in smokeless zones.
Primary air, secondary air and tertiary air supplies give the Westfire Uniq 23 an efficiency of over 80% as well as giving a clear view of the flames.
Available in a choice of Black or Grey finish
Four different pedestals, please call for more details on these products.
Optional Log store stand also available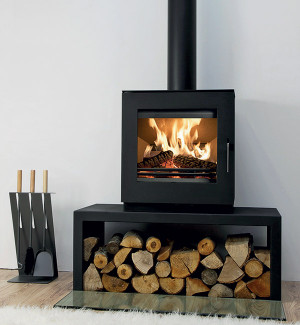 Call us now on 0113 2555622 for more information