Flueless Gas Stoves, Gas Stoves, Flueless Stoves
View Products:
For homes with no chimney or flue - The flueless stove range.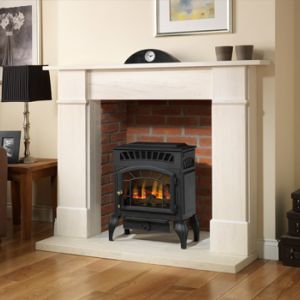 Flueless Gas Stoves are one of the most popular selling stoves at the Leeds Stove Centre. They are perfect for use where homes might be restricted, as they do not have chimneys or terraced houses. Flueless gas stoves can be installed almost anywhere offering complete flexibility to the user. However these flueless gas fires do not compromise on their heat output and style.
We have carefully selected a wide variety of brands and styles to ensure that we have a suitable flueless gas stove for any taste and any requirement. Our styles include modern sleek flueless stoves that look superb in any modern home or apartment. We also stock a selection of traditional styled flueless gas stoves that are ideal for use in cottages and more traditional properties.
One of our flueless gas stoves is the Burley Esteem (pictured). This fantastic stove is made from cast aluminium and can output 2.5kw of heat. The esteem burns extremely cleanly and any waste gas is passed through a catalytic converter that gives a 100% efficiency rating. This flueless gas stove also comes with a one-year guarantee and is available with a choice of coals.
It is important not to attempt to install any of our flueless gas stoves your self, this should be left to the experts. In addition to our sales of gas stoves we also supply an installation service across the North of England. Our Gas Safe Registered and HETAS Qualified installers can install your new gas stove the very highest of standards. Furthermore we can install surrounds and heaths.