Home »
Chimney Flue Systems
Chimney Flue Systems, Insulated Flue Systems
View Products: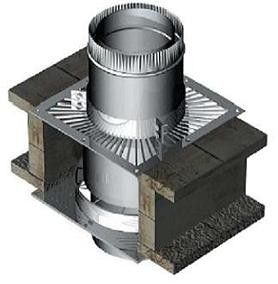 Twin wall insulated flue is suitable for constructing internal and external flue systems for wood burning stoves, multi-fuel stoves, gas and high temperature oil stoves. Our twinwall flue pipe is a double skinned flue that is approved by the latest Hetas official guide for approved solid fuel products.
Leeds Stove Centre also supplies a selection of stove flue systems that are vital when installing a stove that requires a flue in your home. Our wide range of flue components means that you are able to install your flue system exactly how you want it. Whether it needs to bend round existing outside features on walls or go straight up we have the perfect flue system for you.
The flue systems that we supply are available in stainless steel to ensure that it lasts the test of time whilst also still looking fantastic. They can be used either internally or as part of a flue system. Our flue systems are also available with a free locking band that ensures a secure fastening to the next component in the system.
Our range of flue systems are available for use on a range of fuels including solid fuel, gas and oil fired appliances. The flue system boasts 25mm of high density insulation ensuring that no heat is lost during the use of your stove. All our flue system components are HETAS approved and come individually boxed to ensure safe delivery.