Home »
Homefire Stove Fuel
Homefire Stove Fuel
Welcome To Homefire Fuel
Homefire Fuel has been regarded as the market leader for smokeless stove fuel for many years. The beauty with homefire fuel is that it produces plenty of heat to keep you warm, whilst depositing very little ash, perfect for keeping the maintenance of your stove to a minimum.
The fuel combines the traditional qualities of a real fire and is a slow burning fuel, this helps to control the flames easily. In addition homefire fuel also produces much less carbon dioxide than coal. Burning Homefire Kiln Dried Hardwood Logs is a perfect way to heat your home, they generally contain 20% less moisture than regular logs. By being much dryer they offer a higher burn temperature and also keeps your stove free from moisture.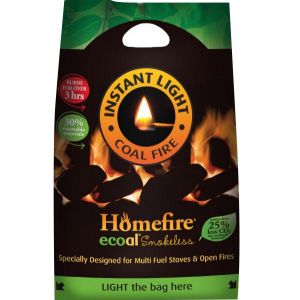 All of Homefire's Hardwood Logs are FSC certified, this means that they come from a well managed, maintained British woodland. In addition it also means that they are sourced in a much more environmentally friendly way.
Leeds Stove Centre has a large choice of homefire fuel to choose from including their popular 'Ecoal' range. This particular fuel offers superb performance and is guaranteed to light every single time, in addition burn time can last well over 3 hours. Leeds Stove Centre are happy to offer advice on which homefire fuel would be best suited to your stove.
We also stock a number of homefire fire lighters and kindling. Our choice of homefire logs is available in 10-30kg bags and can be delivered anywhere in the UK.