Home »
Gazco Riva Vision Large Gas Stove
Description:
The Gazco Riva Vision Large Gas Stove
The stunning Gas Riva Vision stove has an eye-catching glass-fronted door and glass plinth. (Click on image to enlarge)
This gas stove is available with white stone or log-effect fuel bed.
There is also the choice of conventional or balanced flue installations.
Gas Riva Vision has a sequential remote control which gives you complete control of the stove from ignition to programmable thermostatic and timer controls.
To increases your interior design possibilities you can opt for a contemporary stove bench (Click HERE for options) or black gloss flue pipe (conventional flue only). These are the perfect complement to this stylish stove.
Excelent 4.85kw heat ouput
Available in Natural Gas or LPG
Top flue only
Flue Types:
This product is compatible with the following flue types:
Balanced Flue
Brick Chimney Flue C1
Pre-Fabricated Flue C2
Technical Specification & Dimensions: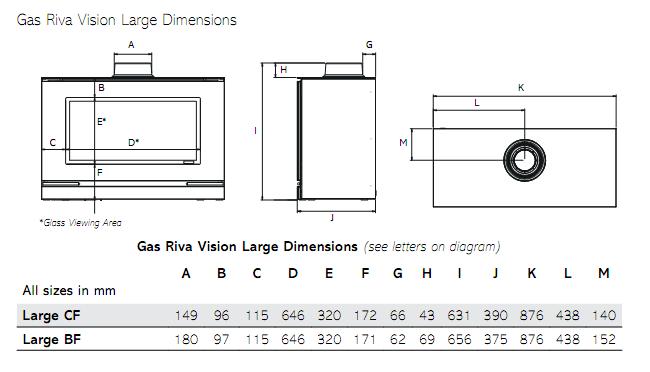 Fuel Bed : White Stone Chippings or Logs
Finish: Black Glass
Heat Output : 5.20kW conventional flue, 5.10 balanced flue
Efficiency : 70% conventional flue, 81% balanced flue
Controls : Programmable Remote Control
Flue : Class 1, Class 2 or option for Balanced flue
Flue size : 5" (125mm)
Flue: Top Only
Air Vent Required : No
Weight : 75 kgs
Warranty : 2 Years
You may also like these related products: