Home »
Gazco Medium Stockton Gas Stove
Description:
The Gazco Medium Stockton Gas Stove
Using cast iron for the door and heavy gauge steel for the body, the Gas Stockton stoves combine simple, authentic stove styling with Gazco's latest living flame technology. (Click on image to enlarge)
This means you can enjoy an unrivalled coal or log effect fire with heating performance that will keep your room cosy on cold winter evenings.
Colour choices: Matt Black only
Command remote control option
3.53kW heat output
78% efficiency
Choice of log or coal fuel bed
Natural Gas or LPG option
All Stockton models feature an adjustable flame and heat setting whether you opt for manual controls, the Standard remote control or the Programmable remote control.
Select the top-of-the-range Programmable remote control and you can even set the stove to switch itself on and off twice a day and thermostatically maintain the temperature in your room.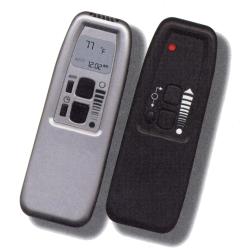 Designed for homes with a Class 1 Chimney or Class 2 Prefabricated Flues
NB: A balanced flue and powerflue version are also available for homes without a chimney or flue
As this product is unavailable to purchase online, please visit our showroom for current prices and availability
Flue Types:
This product is compatible with the following flue types:
Balanced Flue
Brick Chimney Flue C1
Power Flue
Pre-Fabricated Flue C2
Technical Specification & Dimensions: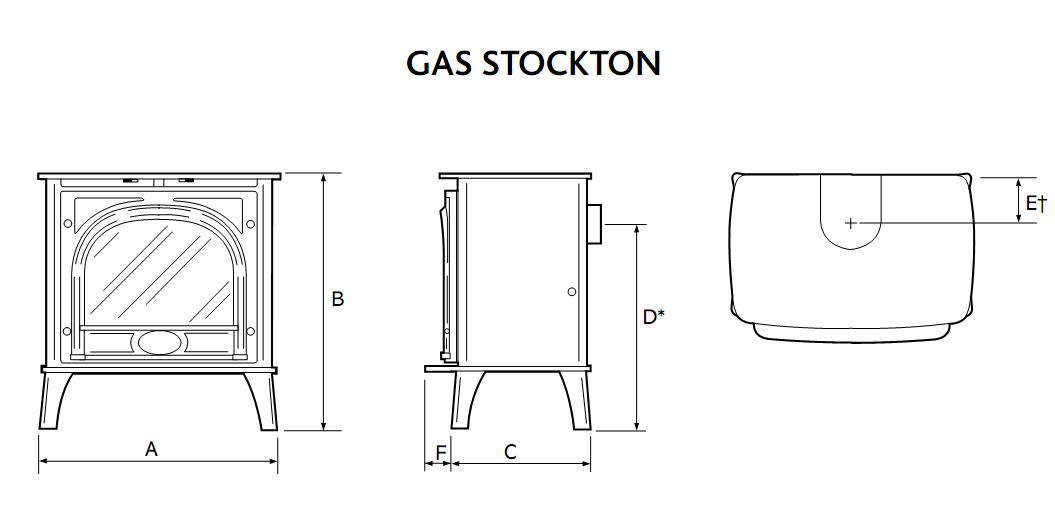 A: 579mm B: 618mm C: 345mm
D: 425mm E: 102mm F: 66mm
D: (Balanced Flue version - 482mm)
E: (Balanced Flue version - 140mm)
Recommended clearances between stove and other surfaces: Top 9" (225mm), Sides 6" (150mm), Rear must be a minimum of 2" (50mm)
Fuel Bed : Log or Coal Effect
Heat Output : 5.28kW
Efficiency : 78% conventional flue, 82% Balanced flue
Controls : Manual, remote, programmable
Flue : Class 1, Class 2 or option for balanced flue or powerflue
Flue size : 5" (126mm)
Air Vent Required : No
Weight : 77 kgs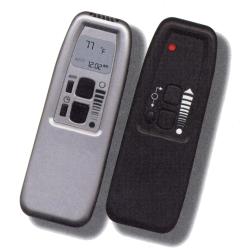 The Stockton has a choice of top or rear flue exit. Small and medium models can be supplied with an optional rear closure plates: Small (8042), Medium (8105) and spigot extension (8111).
You may also like these related products:
WAS £1059.00

NOW £979.00 inc. VAT